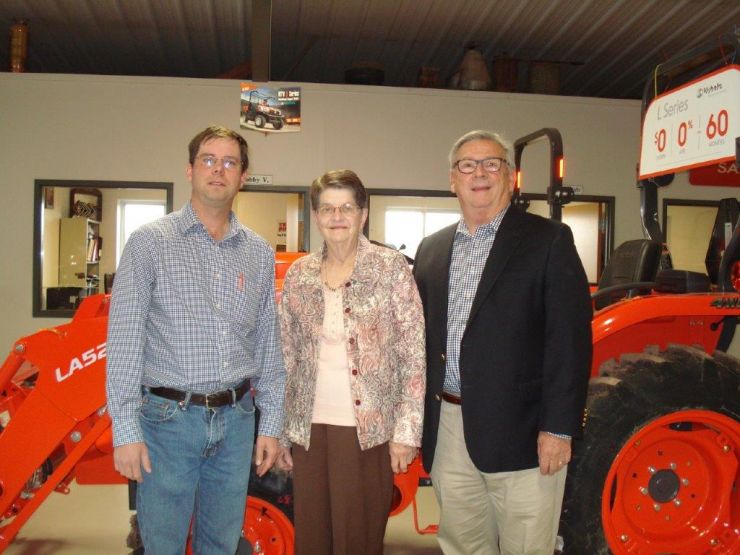 Photo from Left to Right: Earl Marshall, President Marshall Machinery; Mrs. Marjorie Marshall; Paul Edwards, WCCF Executive Director.
The estate of the late John E. Marshall has established a Donor Advised Fund at the Wayne County Community Foundation. Additionally, Mrs. Marjorie L. Marshall has donated substantially on her own to expand the projects that the Fund will support. The fund's name is, "The John E. and Marjorie L. Marshall Fund."
The Fund will annually award scholarships to Wayne County resident students who will pursue training in the fields of Diesel Power Technology; Heavy Equipment operations and repair; and other related agricultural/construction training programs. In addition, adult learners may also apply for a scholarship in these fields. Also, scholarships may be awarded to those Wayne County resident students who are members of a 4H Club or their high school's Future Farmers of American organization intending to major in agricultural sciences, or related agri-business careers. Finally, the fund will also consider making grants to Wayne County non-profit organizations and schools who wish to sponsor projects supporting and promoting agriculture in Wayne County.
In 1959, Mr. Marshall established Marshall Machinery, Inc and over the years his business received numerous national sales awards. He served on the National Kubota Tractor Corporation Dealer Advisory Board. He and Mrs. Marshall were committed to the welfare of their community, serving as Board members on a wide variety of organizations associated with agriculture.
The Marshall Family consists of five children, Barbara, Linda,Earl, Holly and Darryl. Earl Marshall carries on the tradition of excellence at Marshall Machinery service as its President.
The Wayne County Community Foundation is honored to be able to administer this outstanding fund that will benefit Wayne County residents for many years in the future.